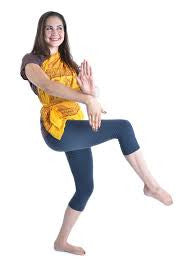 TOOL III: Refer to Yoga, Dance, Music, Aikido, Tai chi, or Drama Group
TOOLTip on Referrals to Movement Groups (PDF, 1 card)
Anxious young people find it difficult to relax and feel comfortable in their bodies. Sexually abused kids are especially ashamed of their bodies, and will do anything to appear invisible.
They think that people can tell what happened to them, and that they appear "dirty, yucky and used."
Participation in non-competitive drama, yoga , tai chi, aikido or similar movement groups gives them a safe place to practice emotional expression. Its essential that these settings are low stress, and that the student can express at their own pace.
With the TOOLTip Reminder Card, teachers may -
Give the card to the student or caregiver to suggest they find a group
Keep the card as a reminder to refer the student to school-based group
Share cards with teachers as a student's plan of care is discussed
ADD TO ORDER
to Download this handy 3x5
TOOLTip Reminder Card
(PDF, 1 card)
.
---