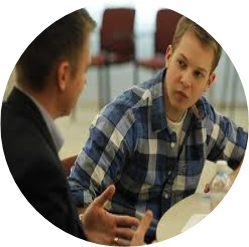 TOOL II: Provide 1 on 1 Mentoring Meetings
TOOLTip Reminder and Invitation Card (PDF, 1 CARD)
A shocking 42% of child sexual abuse reports are first made at school.
For anxious kids that are rebuilding their ability to trust, mature and consistent positive feedback is essential. There is no substitute for 1:1 adult mentoring when in the early stages of recovery, or when deciding whether to disclose their abuse.
Teachers, coaches and youth leaders are uniquely positioned to be that first safe connection.
But its also important to remember that child sexual abuse happens in private, and kids may be too afraid to meet alone at first. Meeting in a public area, yet with conversational privacy is recommended. The TOOLTip Reminder Card can be used as -
An invitation to a child to talk to you privately.
A reminder for your class and school campus on your bulletin board
A reminder to you in your Toolkit file
ADD to ORDER and Download this 3x5 TOOLTip Reminder Card (PDF, 1 card)
---